Analyser tous les commentaires sur l'App Store et le Mac App Store.

Review Sherlock est votre logiciel pour analyser tous les commentaires postés sur l'App Store et le Mac App Store. Review Sherlock récupère tous les commentaires de tous les pays en une seule fois. Avec Review Sherlock, vous disposez dans une interface claire et précise de tous les éléments nécessaires pour analyser et comprendre les commentaires et les notes attribuées pour votre application.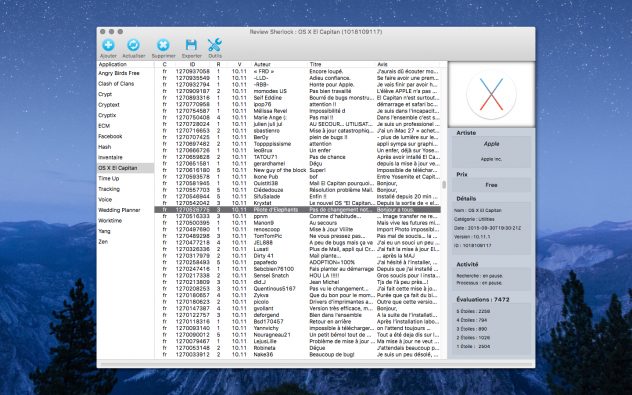 Entrez votre logiciel dans Review Sherlock, puis récupérez tous les avis.
Review Sherlock va étudier tous les avis produits pour votre application. Vous pouvez ensuite grâce à Review Sherlock, obtenir un diagramme camembert ou bâton des notes, étudier un commentaire précis, exporter l'avis, les avis ou la liste de tous les auteurs pour une application donnée.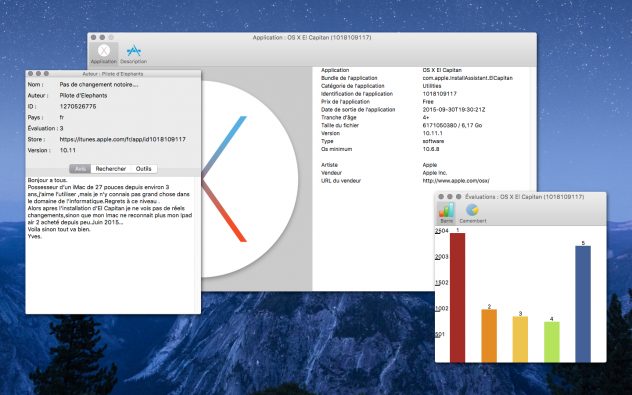 Fonctionnalités clefs :
Logiciel gratuit sans limite d'utilisation.
Nombre de logiciels illimités.
Nombre d'avis extractibles illimités.
Application :
Actualisation de l'application.
Exportation de l'application.
Suppression de l'application.
Suppression de toutes les applications.
Commentaires :
Actualisation des avis.
Exportation des avis.
Outils facilitant la suppression d'un avis.
Utilisateurs :
Exportation de l'avis d'un utilisateur.
Exportation de la liste des auteurs.
Outils pour rechercher un utilisateur.
Outils :
Choix de la méthode d'extraction. (JSON ou XML)
Diagrammes pour analyser et comprendre les notes attribuées.
Journaux pour analyser les connexions et l'extraction des données.
Paramètres pour optimiser l'extraction.
Support du HTTP 1.0 où HTTP 1.1.
Support du mode plein écran.
Support du proxy HTTP.
Support des notifications.
Réinitialisation des préférences.
Réinitialisation des journaux.
Soutenir le projet Review Sherlock avec PayPal :
You can donate money to the Review Sherlock project through Rbcafe's PayPal account. There is no minimal amount for your donation. If you click on one of the buttons below, you will be taken to the secure PayPal Web site.


Téléchargez Review Sherlock
Fichier : reviewsherlock.zip (1.0.7)
MD5
bfc70da1292ca83fd9fb68fda1321a3f
SHA1
0023aba83bee3b180f09f68365ae493fcac44b80
SHA256
d359a6a8c8821184207c05364c1f6a3b41a84e111b70db733fe9b3a88084e81c
Information :